Wiersze dla dzieci
Book design
Stanisław Grochowiak's "Poems for children".
Published in March 2017 by Warstwy.
---
Illustrated by Gosia Herba
Designed by Mikołaj Pasiński
Cover designed by Gosia Herba and Mikołaj Pasiński
The book is a compilation of poems first published in 70's in two tomes: "To było Gdzieś" (1973) and "Biały Bażant" (1978). The two sections are distincted by different leading colours.
---
Fonts:
Charter Com 13.5/20 pt (main text)
True North Textures (titles, running heads, and page numbers)
Dramaturg (title on the cover)
---
The book was printed on Alto Naturel 1.3 paper, 150g/m2.
---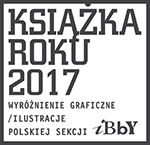 Honourable mention for the design and illustration in the Book of the year 2017 contest organized by the Polish section of IBBY.